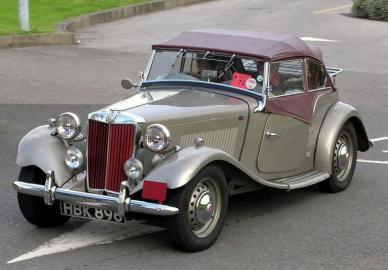 Specification
Production 1950-1953
30,000
Body style(s) 2-door roadster
Engine(s) 1250 cc XPAG type Straight-4
Height 53 in (1346 mm)
Length 145 in (3683 mm)
Width 59 in (1499 mm)
Wheelbase 94 in (2388 mm)
The history of the MG TD
The MG T series of cars (including the TA, TB, TC, TD, and TF) was a basic body-on-frame convertible sports car produced from 1936 through to 1955. It was replaced by the MGA.
MG TD
Production 1950-1953
30000 made
Body style(s) 2-door roadster
Engine(s) 1250 cc XPAG type I4
Wheelbase 94 in (2388 mm)
Length 145 in (3683 mm)
Width 59 in (1499 mm)
Height 53 in (1346 mm)
The 1950 TD combined the TC's drivetrain but with modified hypoid geared rear axle with the MG Y-type chassis and a familiar T-type style body. An independent suspension using coil springs in front was new, based on that fitted to the MG Y-type saloons, as were rack and pinion steering, smaller 15-inch (380 mm) disc type road wheels and a left-hand drive option. Bumpers and over-riders became standard for the first time. The car was also 5 inches (130 mm) wider with a track of 50 inches (1,300 mm).
In 1950 the TD MkII was introduced, produced alongside the standard car, with a more highly tuned engine with 8.0:1 compression ratio giving 57 bhp (43 kW) at 5500 rpm. It also featured twin fuel pumps revised dampers and a higher rear axle ratio.
Nearly 30,000 TDs had been produced, including about 1700 Mk II models , when the series ended in 1953 with all but 1656 exported. 23,488 were exported to the United States.
An example tested by The Motor magazine in 1952 had a top speed of 77 mph (124 km/h) and could accelerate from 0-60 mph (97 km/h) in 18.2 seconds. A fuel consumption of 26.7 miles per imperial gallon (10.6 L/100 km; 22.2 mpg-US) was recorded.
In 1998, the rights, intellectual properties and trade marks associated with the production of MG TD is acquired by TD Cars Sdn Bhd in Malaysia to reproduce the TD series as TD2000.