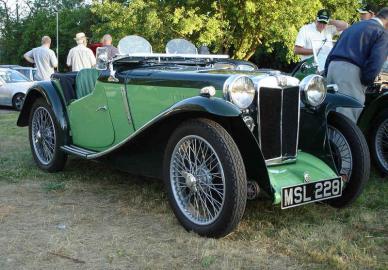 Specification
Production 1934-1935
2000 made
Engine(s) 847 cc In-line 4
The history of the MG PA
The MG P-type was produced by the MG Car company from 1934 to 1936. This 2 door sports car used an updated version of the overhead camshaft, crossflow engine, used in the 1928 Morris Minor and Wolseley 10 and previously fitted in the J-type Midget of 1932 to 1934, driving the rear wheels through a four speed non-synchromesh gearbox. The chassis was a strengthened and slightly longer version of that used in the J-type with suspension by half elliptic springs all round with rigid front and rear axles. Steering was initially by a Marles Weller and later a Bishop Cam system. The two-seat car had a wheelbase of 87 inches (2210 mm) and a track of 42 inches (1067 mm). Most cars were open two seaters but streamlined Airline coupé bodies were also made. The P-type was also available as a four-seater; a car that suffered from a lack of power and poor rear ground clearance. Whereas J, K and L-type MGs differentiated between versions with the use of numbers, with 1 indicating a four seater (i.e. J1) and 2 a two-seater (i.e. J2), this was not the case with the P-type (or its six-cylinder sister, the N-type Magnette), and there is no clue to the type in the name.
The first version, the PA used an 847 cc engine similar to the one on the J-Type but now with a 3 bearing crankshaft, larger camshaft and twin SU carburettors. It produced 36 bhp (27 kW) at 5,500 rpm.
The PB produced from 1935 had a bigger 939 cc engine made by enlarging the bore from 57 to 60 mm and this increased the output to 43 bhp (32 kW). Externally the versions are very similar, the main difference being the radiator grille, where the PA has a honeycomb and the PB has vertical slats. The other obvious difference is in the design and material of the standard dashboard.
2,000 of the PA and 526 of the PB were made. In 1935 a PA open two seater cost £222.