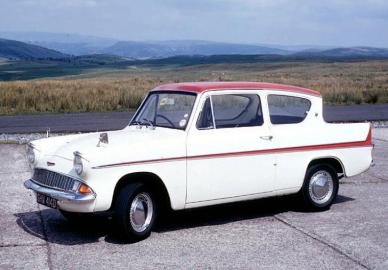 Specification
Production 1959'Äď1967
1,004,737 units
Body style(s) 2-door saloon
3-door estate car
2-door panel van
Engine(s) 997 cc I4
Height 56 in (1422 mm)
Length 154 in (3912 mm)
Width 56 in (1422 mm)
Wheelbase 91 in (2311 mm)
Kerb Weight 1,624 lb (737 kg) (saloon)
The history of the Ford Anglia 105E
This example of the more competitively priced basic Anglia is prior mandatory amber turn indicators and has them combined with the parking lights. It featured a smaller, painted grille, with a chromed reveal, rendering them easily identifiable from but, several decades later, rarer than De Luxe 105Es.
The final Anglia model, the 105E, was introduced in 1959. Its American-influenced styling included a sweeping nose line, and on deluxe versions, a full-width slanted chrome grille in between prominent 'eye' headlamps. (Basic Anglias featured a narrower, painted grille). Its smoothly sloped line there looked more like a 1950s Studebaker (or even early Ford Thunderbird) than the more aggressive-looking late-'50s American Fords, possibly because its British designers used wind-tunnel testing and streamlining. Like late-'50s Lincolns and Mercurys and the CitroŽn Ami of France, the car sported a backward-slanted rear window (so that it would remain clear in rain, according to contemporary marketing claims). In fact, this look was imported from the 1958 Lincoln Continental, where it had been the accidental result of a design specification for an electrically opening (breezway) rear window. As well as being used, by Ford, on the Consul Classic, this look was also copied by Bond, Reliant and Invacar, for their three wheelers. The resulting flat roofline gave it excellent rear headroom. It had muted tailfins, much toned-down from its American counterparts. An estate car joined the saloon in the line-up in September 1961.
The new styling was matched by a new engine, something that the smaller Fords had been needing for some timeóa 997 cc overhead-valve straight-4 with an oversquare cylinder bore, that became known by its "Kent" code name. Acceleration from rest was still sluggish (by the standards of today), but it was much improved from earlier cars. Also new for British Fords was a four-speed (manual) gearbox with synchromesh on the top three forward ratios: this was replaced by an all-synchromesh box in September 1962. The notoriously feeble vacuum powered windscreen wiper set-up of earlier Anglias were replaced with (by now) more conventional windscreen wipers powered by their own electric motor. The Macpherson strut independent front suspension used on the 100E was retained.
In October 1962, twenty four year old twin brothers Tony and Michael Brookes and a group of friends took a private Anglia 105e fitted with the Ford £13 Performance Kit to Montlhery Autodrome near Paris and captured 6 International Class G World Records averaging 83.47 mph. These were 4,5,6 and 7 days and nights and 15,000, and 20,000 kilometres. The Anglia's strength and durability meant that no repairs were required whatsoever other than tyre changes.
The car's commercial success has subsequently been overshadowed by the even greater sales achieved by the Cortina: in 1960, when 191,752 Anglias left Ford's Halewood plant in the 105E's first full production year, it set a new production-volume record for the Ford Motor Company. The Anglia Super introduced in September 1962 for the 1963 model year shared the longer stroke 1198 cc version of the Ford Kent 997cc engine of the newly introduced Ford Cortina. The Anglia Super was distinguished by its painted contrasting-coloured side stripe.
The 105E set 6 new World Records for an under 1000 cc car in 1962 when Tony Brookes and his twin brother Michael Brookes and their team achieved an average speed of over 83 mph (134 km/h) for seven days and nights at the Montlhery circuit just south of Paris.
A new Anglia saloon tested by the British Motor magazine in 1959 had a top speed of 73.8 mph (118.8 km/h) and could accelerate from 0-60 mph (97 km/h) in 26.9 seconds. A fuel consumption of 41.2 miles per imperial gallon (6.86 L/100 km; 34.3 mpg-US) was recorded. The test car cost £610 including taxes of £180.
The old 100E Anglia became the new 100E Popular and the four-door Prefect bodyshell remained available as the new Ford Prefect (107E) which had all 105E running gear, including engine and brakes, while the 100E Escort and Squire remained available, unchanged. In 1961 the Escort and Squire were replaced by the 105E Anglia estate. Both cars are popular with hot rodders to this day, helped by the interchangeability of parts and the car's tuning potential. The 100E delivery van also gave way to a new vehicle based on the 105E. Identical to the Anglia 105E back to the B post, the rest of the vehicle was entirely new.