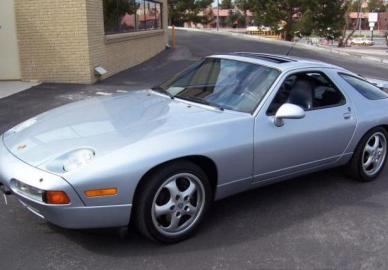 Specification
Manufacturer Porsche
Production 1977–1995
Body style(s) 2-door coupe
Class Grand tourer
Engine(s) 4.5 L V8
4.7 L V8
5.0 L V8
5.4 L V8
Transmission(s) 5-speed manual
3-speed automatic
4-speed automatic
Layout Front-engine, rear-wheel drive
The history of the Porsche 928
The Porsche 928 was a sports-GT car sold by Porsche AG of Germany from 1978 to 1995, designed to replace the company's iconic 911. The 928 attempted to combine the power, poise, and handling of a sports car, with the refinement, comfort, and equipment of a luxury sedan, to create what some Porsche executives thought would be a vehicle with wider appeal than the compact, quirky and sometimes difficult 911.
Since its inception in 1949, Porsche has manufactured only six front-engined models, four of which were coupes, including the 928. The car has the distinction of being the company's only coupe powered by a front-mounted V8 engine, and the company's first mass-produced V8 powered model.
During 1983 the 928S was the fastest car sold in North America, with a top speed of 146 mph (235 km/h).
By the late 1960s, Porsche had changed significantly as a company, and executives including owner Ferdinand Porsche were playing with the idea of adding a luxury touring car to the line-up. Managing Director Ernst Fuhrmann was also pressuring Ferdinand to approve development of the new model in light of concerns that the current flagship model at the time, the 911, was quickly reaching its maximum potential where it could soon no longer be improved upon. Slumping sales of the 911 seemed to confirm that the model was approaching the end of its economic life cycle. Fuhrmann envisioned the new range-topping model as being the best possible combination of a sports coupe and a luxury sedan, something well equipped and comfortable enough to be easily driven over long distances that also had the power, poise and handling prowess necessary to be driven like a sports car. This set it apart from the 911, which was a pure sports car.
Ordered by Ferry Porsche to come up with a production-feasible concept for his new model, Fuhrmann initiated a design study in 1971, eventually taking from the process the final specs for the 928. Several drivetrain layouts were considered during early development, including rear and mid-engined designs, but most were dismissed because of technical and/or legislative difficulties. Having the engine, transmission, catalytic converter(s) and exhaust all cramped into a small rear engine bay made emission and noise control more difficult, something Porsche was already facing problems with on the 911 and wanted to avoid. After deciding that the mid-engine layout didn't allow enough room in the passenger compartment, a front engine/rear wheel drive layout was chosen.
Porsche engineers wanted a large-displacement motor to power the 928, and prototype units were built with a 5.0 L V8 producing close to 300 hp (220 kW). Very early units used one four-barrel carburetor, which was eventually rejected in favor of Bosch's K-Jetronic fuel injection system. When increasing concern within the company over the pricing and availability of fuel during the oil crisis of the 1970s became an issue of contention, smaller engines were considered in the interest of fuel economy. A push began for the development of a 3.3 L 180 hp (130 kW) powerplant they had drawn up specs for, but company engineers balked at this suggestion. Both sides finally settled on a 4.5 L, SOHC 16-valve V8 producing 240 PS (180 kW; 240 hp) (219 hp (163 kW) in North America), which they considered to have an acceptable compromise of performance and fuel economy.
The finished car debuted at the 1977 Geneva Motor Show before going on sale later that year as a 1978 model. Although it won early acclaim for its comfort and power, sales were slow. Base prices were much higher than that of the previous range-topping 911 model and the 928's front-engined, water-cooled design put off many Porsche purists.
Fuhrmann's replacement, Peter Schutz, decided that the models should be sold side by side, feeling that the 911 still had potential in the company's line-up. Legislation against rear-engined vehicles also did not materialize. Although the 928 developed an avid fan following, it never sold in the numbers Fuhrmann had originally predicted and was discontinued in 1995.
The 928 featured a large, front-mounted and water-cooled V8 engine driving the rear wheels. Originally displacing 4.5 L and featuring a single overhead camshaft design, it produced 219 hp (163 kW/222 PS) for the North American market and 240 PS (176 kW/237 hp) in other markets. Porsche upgraded the engine from mechanical to electronic fuel injection in 1980 for US models, although power remained the same. This design marked a major change in direction for Porsche (started with the introduction of the 924 in 1976), whose cars had until then used only rear- or mid-mounted air-cooled flat engines with four or six cylinders.
Porsche utilized a transaxle in the 928 to help achieve 50/50 front/rear weight distribution, aiding the car's balance. Although it weighed more than the difficult-to-handle 911, its more neutral weight balance and higher power output gave it similar performance on the track. The 928 was regarded as the more relaxing car to drive at the time. It came with either a five-speed dog leg manual transmission, or a Mercedes-Benz-derived automatic transmission, originally with three speeds, with four speed from 1983 in North America and 1984 in other markets. More than half of production had the automatic transmission. Exact percentage of manual gearbox cars for entire production run is not known but its believed to be between 25 and 30%.
The body, styled by Wolfgang Möbius under guidance of Anatole Lapine, was mainly galvanized steel, but the doors, front fenders, bonnet, and roof were aluminum in order to make the car more lightweight. It had a substantial luggage area accessed via a large hatchback. The new polyurethane elastic bumpers were integrated into the nose and tail and covered in body-coloured plastic; an unusual feature for the time that aided the car visually and reduced its drag. Porsche opted not to offer a convertible variant but some aftermarket modifiers offer convertible conversions.
The 928 qualified as a 2+2, having two small seats in the rear. Both rear seats could be folded down to enlarge the luggage area, and both the front and rear seats had sun visors for occupants. The 928 was also the first vehicle in which the instrument cluster moved along with the adjustable steering wheel in order to maintain maximum instrument visibility.
The 928 included several other innovations such as the "Weissach Axle", an early all-wheel steering system that provides passive rear-wheel steering while cornering, and an unsleeved, silicon alloy engine block made of aluminum, which reduced weight and provided a highly durable cylinder bore.
Porsche introduced a refreshed 928 S into the European market in 1979 model year, although it was summer of 1982 before the model reached North America. Externally, the S wore new front and rear spoilers and sported wider wheels and tyres than the older variant, but the main change for the 928 S was under the bonnet, where a revised 4.7 L engine was used. European versions debuted with 300 PS (221 kW/297 hp), and were upgraded to 310 PS (228 kW/306 hp) for 1984 model year. From 1984 to 1986, the ROW (Rest Of the World) S model was officially called S2 in UK. North American spec 1983 and 1984 S models used, among other differences, smaller valves, milder camshafts and additional equipment to obey emissions regulations, and were limited to 239 hp (174 kW/242 PS) as a result.
As the faster S model was not available in the United States and Canada during the first three years of its existence, a "Competition Group" option was created to allow North American customers to have an S model lookalike with spoilers, 16" flat disc wheels, sport seats, sport springs and Bilstein shocks. Customers could specify paint and interior colors the same way as on a normal 928. The package was available in 1981 and 1982 model years and was cancelled in 1983 when the S model became available for these markets. Many cars have had S model features added by subsequent owners, making original "Competition Group" cars difficult to distinguish without checking option codes.
In 1982 model year, two special models were available for different markets. 205 "Weissach Edition" cars were sold in North America. Unusual features were champagne gold metallic paint, matching brushed gold flat disc wheels, two-tone leather interior, a plaque containing the production number on the dash and the extremely collectible three-piece Porsche luggage set. It's believed these cars were not made with S spoilers even though these were available in U.S. during this time period as part of the "Competition Group" option. The "Weissach Edition" option was also available for the US market 911 in 1980 model year and 924 in 1981 model year.
140 special "50th Jubilee" 928 S models were available outside the U.S. and Canada to celebrate the company's 50 year existence as a car manufacturer. This model is also sometimes referred to as the "Ferry Porsche Edition" because his signature was embroidered into the front seats. It was painted meteor metallic and fitted with flat disc wheels, wine red leather and special striped fabric seat centers. Similar 911 and 924 specials were also made for ROW markets.
Porsche updated the North American 928 S for 1985, replacing the 4.7 L, SOHC engine with a new 5.0 L, DOHC unit sporting four valves per cylinder and producing 288 hp (215 kW/292 PS). Seats were also updated to a new style. These cars are sometimes unofficially called S3 to distinguish them from 16-valve S models. European models kept a 4.7 L engine, which was slightly more powerful, as standard; a little detuned 32-valve engine together with catalytic converters became an option in some European countries and Australia for 1986. That same year, revised suspension settings, larger brakes with 4-piston calipers and modified exhaust was installed on the 928 S, marking the final changes to old body style cars. ROW models received these changes at the beginning of the model year while North American cars got them only after close to 900 cars were made, starting from VIN 1001. North American version of this late 1986 model is sometimes referred as S3.5 or S3½ because of these changes. The name is a little misleading as more than 2/3 of the 1986 North American model production had these updates.
The 928 S4 variant debuted in the second half of 1986 as a 1987 model, an updated version of the 5.0 L V8 for all markets producing 320 PS (235 kW/316 hp), sporting a new single-disc clutch in manual gearbox cars, larger torque converter in automatics and fairly significant styling updates which gave the car a cleaner, sleeker look. S4 was much closer to being a truly world car than previous models as only major differences between ROW and US models were instrumentation in either kilometers or miles, lighting, front and rear bumper shocks and the availability of catalytic converters in many ROW markets. The Australian market version was only one with different horsepower rating at 300 PS (221 kW/296 hp) due to preparation for possible low grade fuel. Even this was achieved without engine changes.
A Club Sport variant which was up to 100 kg (220 lb) lighter became available to continental Europe and U.S. in 1988. This model was watered down version of 1987 factory prototype which had lightened body and 10.9:1 compression ratio engine. Also in 1987 the factory made four white lightened manual gearbox S4 models for racecar drivers who were on their payroll at the time. These were close to same as later actual Club Sport models and can also be considered prototypes for it. An SE (sometimes called the S4 Sport due to model designation on rear bumper), a sort of halfway point between a normally equipped S4 and the more race-oriented Club Sport, became available to the UK. It's generally believed these Porsche Motorsport engined cars have more hp than the S4. They utilize parts which later became known as GT pistons, cams, engine ECU programs and a stronger, short geared manual gearbox. The automatic gearbox was not available.
For 1989 model year visible change inside was digital trip computer in dashboard. At the same time Australian models received the same 320 PS (235 kW/316 hp) engine management setup as other markets. Porsche debuted the 928 GT in the late winter 1988/89 after dropping the slowly selling CS and SE. In terms of equipment, the GT was like the 928 SE, having more equipment than a Club Sport model but less than a 928 S4 to keep the weight down somewhat. It had the ZF 40% limited-slip differential as standard like the Club Sport and SE before it. Also like the CS and SE, the GT was only available with a manual gearbox. ROW 1989 CS and GT wheels had an RDK tire pressure monitoring system as standard. This was also optional for the same year ROW S4. For 1990 model year Porsche made RDK and a 0-100% variable ratio limited-slip called PSD (Porsche SperrDifferential) standard in both GT and S4 models for all markets. This system is much like the one from the 959 and gives the vehicle even more grip. In 1990 the S4 was no longer available with a manual gearbox.
The S4 and GT variants were both cut at the end of 1991 model year, making way for the final version of the 928. The 928 GTS came for sale in late 1991 as a 1992 model in Europe and in spring of 1992 as an early 1993 model in North America. Changed bodywork, larger front brakes and a new, more powerful 5.4 L, 350 PS (257 kW/345 hp) engine were the big advertised changes; what Porsche wasn't advertising was the price. Loaded GTS models could eclipse $100,000 USD in 1995, making them among the most expensive cars on the road at the time. This severely hampered sales despite the model's high competency and long standard equipment list. Porsche discontinued the GTS model that year after shipping only 77 of them to the United States. Total worldwide production for all years was a little over 61,000 cars.
Styling was the same from 1978 through 1979 and the body lacked both front and rear spoilers. From 1980 (1983 in North America) through 1986, front and rear spoilers were present on "S" models, rear spoilers were integrated into the hatch. From 1987 through 1995, the front spoiler is integrated into the nose and the rear spoiler became a separated wing rather than an integrated piece, and side skirts were added. The rear tail-light configuration was also different from previous versions. GTS model had wider rear fenders added to give more room for 9" wide wheels.
Another easily noticeable visual difference between versions is the style of the rims. Early 928s had 15" or 16" "phone dial"-style rims, while most 1980s 928s had 16" slotted "flat discs", CSs, SEs and 1989 GTs had 16" "Club Sport", later GTs had 16" "Design 90" style which were also option on same period S4s, the GTS used two variations of the 17" "CUP" rims.