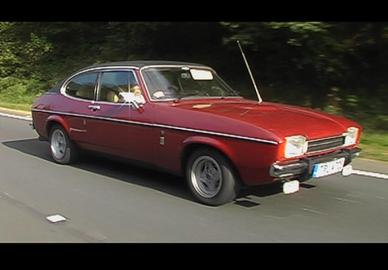 Specification
Manufacturer Ford
Production 1974-1977
Assembly Dagenham, Halewood, United Kingdom
Genk, Belgium
Saarlouis, Cologne, Germany
Body style(s) fastback coupé
Class Mid-size sports car
Engine(s) petrol:
I-4 1.6L, 2.0L,
V6 3.0L
Transmission(s) Manual transmission
Layout FR layout
The history of the Ford Capri II
In February 1974, the Capri Mk2 was introduced. After 1.2 million cars sold, and with the 1973 oil crisis, Ford chose to make the new car more suited to everyday driving with a shorter bonnet, larger cabin and the adoption of a hatchback rear door. By the standards of the day, the Mk2 was a very well evolved vehicle with very few reliability issues.
For Germany the Capri now offered 1.3 (55 PS (40 kW)) and 1.6 litre (72 PS (53 kW)) or (88 PS (65 kW)) in-line four cylinder engines, complemented by 2.3 (108 PS (79 kW)) and the UK sourced 3.0 litre V6s.
Although it was mechanically similar to the Mk1, the Capri 2 had a revised larger body and a more modern dashboard including a smaller steering wheel. The 2.0 L version of the Pinto engine was introduced in the European model and was placed below the 3.0L V6. The Capri still maintained the large square headlights, which became the easiest way to distinguish between a Mk2 and a Mk3. Larger disc brakes and a standard alternator finished the list of modifications.
In order to keep the sporty appeal of the car, Ford introduced the John Player Special limited edition, (known as the JPS) in March 1975, but in May 1976, and with sales decreasing, the intermediate 3.0 GT models disappeared to give way for the upscale 3.0 S and Ghia designations. In October 1976, production was limited to the Saarlouis factory only and the following year the Capri left the American market with only 513,500 models sold.
As with the original (1969-1974) Capri series 2000 (2 litre) and 3000 (3 litre) versions topped the new Capri II range. The 2000 models now used an in-line four cylinder "Pinto" engine in place of the original V4 unit. A number of trim levels were available on both the 2 litre and 3 litre models including "S" and Ghia versions.
The Capri 2000 and 3000 used same new bodyshell as the rest of the revised range. This new shell incorporated the hatchback boot, square headlights and larger tail-lamp clusters which modernised the original lines. The Capri was now a firmly established best seller and sales remained strong enough to update the Capri again in 1978 with the arrival of the Capri III.