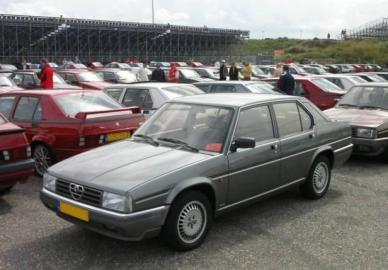 Specification
Manufacturer Alfa Romeo
Production 1984–1987
Designer(s) Bertone
Assembly Arese, Milan, Italy
Body style(s) 4-door sedan
Class Executive car
Successor Alfa Romeo 164
Engine(s) 1.8L I4
2.0L I4
2.0L V6
2.5L V6
2.4L I4 turbodiesel
Transmission(s) 5-speed manual
Height 1420 mm (55.9 in.)
Length 4390 mm (172.8 in.)
Width 1640 mm (64.6 in.)
Wheelbase 2510 mm (98.8 in.)
Kerb Weight 1080-1250 kg (2381-2756 lb)
Layout FR layout
Predecessor None
The history of the Alfa Romeo 90
The Alfa Romeo 90 is an executive car produced by the Italian automaker Alfa Romeo between 1984 and 1987.
Designed by Bertone and introduced at the 1984 Turin Motor Show, the 90 was pitched between the Alfa Romeo Alfetta and the Alfa Romeo Alfa 6, both of which were soon discontinued after the 90's launch. The car used the Alfetta chassis (including its rear mounted transaxle) and took its engines from the larger Alfa 6. The bodywork was similar to both, albeit modernised. One notable feature of the 90's design was small chin spoiler which extended above a certain speed to aid engine cooling.
The 90 was well-equipped, including electric front windows and electrically adjustable seats as standard. The luxurious Gold Cloverleaf (Quadrifglio Oro) model had electric rear windows, a trip computer, power steering, central locking, metallic paint and a digital instrument panel as standard. Five engines were available: 1779 cc, 1962 cc fuel injection, 1996 cc V6, 2492 cc V6 fuel injection and 2393 cc turbodiesel made by VM Motori. The 1962 cc injection also incorporated a variable camshaft timing system.
The 90 was revamped in 1986 with many minor changes throughout, the most obvious exterior change being a new grille with smaller horizontal slants.